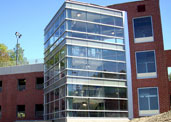 Nemes Glass Corporation is a glass & glazing company that is committed to provide quality professional work at a competitive price. Every project, large or small, is given detailed attention so that our customers are informed with accurate information throughout the duration of the project. We generally serve the Greater Pittsburgh area, but have also been successful and competitive traveling to surrounding markets.
Our dedicated and experienced staff will engineer, fabricate, and install your project in order to maintain quality control and deliver the product to meet schedule requirements. Having the philosophy to work on each project like it was our own will guarantee that our good customer satisfaction record will continue.
Whether you are a general contractor, developer with plans and specs, a building owner, or real estate manager with an idea to improve an existing building, let Nemes Glass Corporation be your "one call and it's done" worry free contractor.
Nemes Glass has recently ventured into the residential glass area. We are anxious to meet your residential glass needs. We produce great tub & shower enclosures, mirrors, insulated glass replacement, and custom pattern glass. Contact us to learn more.